Tara Campbell is a character on the Thundermans. She is the older sister of Cole Campbell. Tara is portrayed by Katherine McNamara.
Biography
Tara is the daughter of Fiona and Gerald Campbell and she is the older sister of Cole Campbell. She goes to Hiddenville.
In Dinner Party, Max develops a huge crush on Tara because of her dark personality. Tara steals Max's lunch when he tries to ask her out. During the dinner party at the Thundermans, Cole's parents introduce Tara as their daughter. Max indirectly tells Tara about his plan to sabotage the dinner party (before he knew she was related to Cole). Tara then tells Max that ruining the party would be a dumb idea because her parents would never let her hang out with him.
Because of Tara's presence, Max tries to fix the dinner but it still goes awry. Nevertheless, Tara calls Max and asks him to call her.
Personality
Tara wears dark clothes and heavy make-up. She also steals people's sandwiches. She looks like the typical bad girl.
Relationships
Max Thunderman - Max first saw Tara in the hallway at he beginning of "Dinner Party" and instantly felt like he had a crush on her. He was attracted to her because of her dark colored clothes and he thought that Tara would be a great dark empress when he becomes a super villain. Then, at the end of the episode, Tara says "call me" to Max as which could be her possible crush. 
Cole Campbell - Cole and Tara aren't really seen with their relationship. They are only seen with their family at the Thundermans' dinner party.
Episode Appearance
Season 1
Trivia
Max had a crush on her.
She is a student at Hiddenville High.
She is the older sister of Cole Campbell
She steals peoples' sandwiches and blames it on other people if it tastes bad.
She wears all black clothing.
Gallery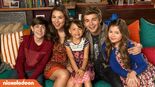 Want to check out more Tara Campbell pictures? Visit the gallery now!
Community content is available under
CC-BY-SA
unless otherwise noted.